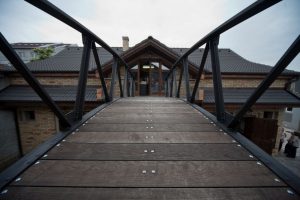 We are a company for wholesale of laboratory and medical equipment and material, production of medical furniture, service of laboratory and medical equipment and representation of foreign companies.
We are located in Novi Sad, Serbia and we also have a company in Bosnia, covering with our activities these two countries.
In next few sentences we would like to properly introduce ourselves to you.
In 1987 the firm started to work as a service of medical devices, exclusively for KRETZ Austria and AVL Austria under the name of ELEKTROMEDICINA. EUROMEDICINA was founded in 1990 as the family business uniting the knowledge, experience, youth and working enthusiasm of two generations of Živković family.
To this day EUROMEDICINA has grown into successful company, before all, thanking to Mr Živković, general manager of EUROMEDICINA, who gained experience during 35 years of work in the field of medical equipment trade and business activity of his elder son Aleksandar who took the leadership of the firm from the very beginning.
EUROMEDICINA is today very successful in carrying out the complete program of laboratory and medical supply, hospital and specialized health institution's equipment and in the production of medical furniture. The service of medical equipment is very important segment of our company. We are selling exclusively the equipment, for which we have trained service technicians, so that we can provide high-quality sales and after sales service.
Service department with 12 service technicians is therefore a highly developed part of EUROMEDICINA and a powerful stronghold of our company.
On the territory of Serbia, there are 63 Medical Centers and 165 Clinics, as well as few dozens small private labs and specialized outpatient clinics.
We are proud to say that on territories covered by our business, we are responsible for installation, service, maintenance and supply of about 300 various laboratory instruments, older or newer, smaller or bigger, installed during our presence on the field.
Euromedicina cooperate with these companies:
Our company is covering three main parts: Service ; Sales part with representation of foreign companies ; Manufacturing of medical furniture. We have 30 employees together with three owner of the Company.
The sale in our company is done directly, through the agents and by catalogues. The consulting services are the integral part of the business. For the special programmes, companies that we represent and some groups of articles, we train the sale specialists to be experts in the sale of concrete programmes.
The marketing activities cover, among other things, the participation in all important fair events and exhibitions, presentations, etc. regarding the branch that we represent.
We usually like to work like a team of highly trained people in their branch, and with this strategy we have a lot of success in our field.
Best regards
EUROMEDICINA
Aleksandar Živković
General Manager