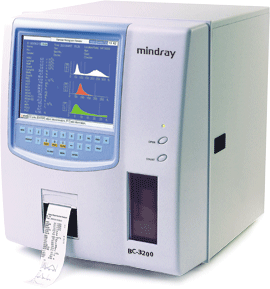 BC-2800
BC-2800 is a compact, fully automatic hematology analyzer with 19 parameters for CBC test and micro sampling technology. The user-friendly interface facilitates an easy and efficient workflow.
. Three-part differentiation of WBC, 19 parameters +3 histograms
. Two counting modes: whole blood and prediluted
. Throughput: 30 samples per hour
. Sample volume: 13 ul (whole blood)
. Storage for up to 20,000 sample results (including histograms)
. Large Color LCD Display

Brochure
---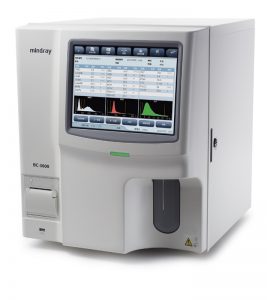 BC-3600

Labs today are facing a multitude of challenges including limited laboratory budgets, increasing requirements for high quality as well as reliable products, a shortage of experienced clinicians and so on. We understand the specific needs of end users, and use them as the foundation for our new solution BC-3600. Complete with an intuitive operation system, convenient data communication interface, excellent performance, BC-3600 is a system solution for satellite labs and clinics.
CBC+3-DIFF, 21 parameters+3 histograms
Throughput: 60 samples per hour
IIntuitive operation system with 10.4″ TFT touch screen
Enhanced performance by proven technologies
Open vial or closed sampling optional
40000 results storage with histograms
Original QC, calibrators and reagents

Brochure
---
BC-5300
Compact, Economical and Easy-of-Use for labs.
The new BC-5300 Auto Hematology Analyzer is a bench-top system, combining state-of-the-art technologies to provide reliable and accurate five-part hematology results from just 20uL of blood. The Windows-based software also provides many advanced features to enhance lab efficiency. BC-5300 requires zero daily maintenance and is equipped with an automatic cleaning set-up to make daily use as easy as possible.
Laser scatter differential to ensure outstanding accuracy
. Semi-conductor laser scatter to differentiate white blood cells by cell size and granule complexity
. Patented cluster algorithm to separate cell groups with great precision
. Intuitive flagging information to help determine abnormal samples
Only 20uL blood and 1min are required to get a five-part report
. Supports both whole blood and capillary blood samples in open vial
. 20uL blood sampling for CBC+DIFF test and 15uL for CBC test
. Up to 60 samples per hour throughput
. Economical reagent consumption

Brochure
---
BC-5380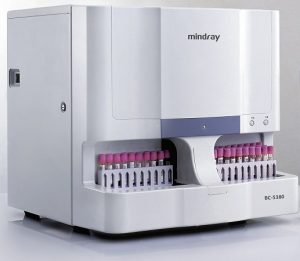 Affordable automation for small labs.
Utilizing three mainstream technologies, the new BC-5380 Auto Hematology Analyzer can provide rapid and reliable tests from just 20uL of blood. In order to save time and manual handling, an autoloader is equipped to hold 30 tubes at one time and achieve 60 samples per hour throughput. With the popular Windows based software, you can easily perform routine tests, manage patient results, set up auto-cleaning and connect to a LIS server. BC-5380 is the ideal choice to streamline daily workflow.
Laser scatter differential to ensure outstanding accuracy
. Semi-conductor laser scatter to differentiate white blood cells by cell size and granule complexity
. Patented cluster algorithm to separate cell groups with great precision
. Intuitive flagging information to help determine abnormal samples
Versatile automated sampling
. 30-tube autoloader for continuous loading
. Independent closed tube compartment for STAT and capillary samples
. Supports selected microtainer tubes
Only 20uL blood and 1min are required to get a five-part report
. Supports both whole blood and capillary blood samples
. 20uL blood sampling for CBC+DIFF tests and 15uL for CBC tests
. Up to 60 samples per hour throughput
. Economical reagent consumption
User-friendly software for easy operation and maintenance
. Customization on reference range, report styles and auto-cleaning schedule
. Day-to-Day QC monitoring
. Bi-directional LIS connection

Brochure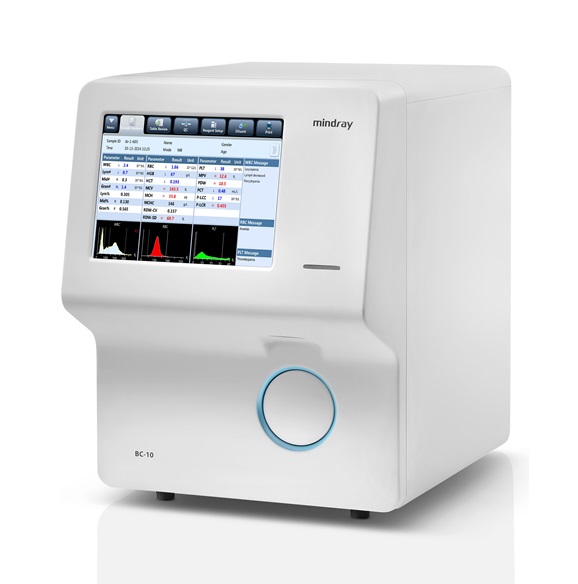 BC-10
At Mindray, we pride ourselves on our dedication and experience in developing better solutions for small labs. Our new 3-part hematology analyzer is the culmination of that effort. It provides small labs with more confidence in results and less turnaround time. Features:
CBC+3-DIFF, 20 parameters+3 Histograms
Throughput: up to 30 samples per hour
8.4 inch TFT touch screen
Only three reagents needed
Open vial sampling
Large storage capacity: up to 50,000 samples
Original QC, calibrators and reagents

---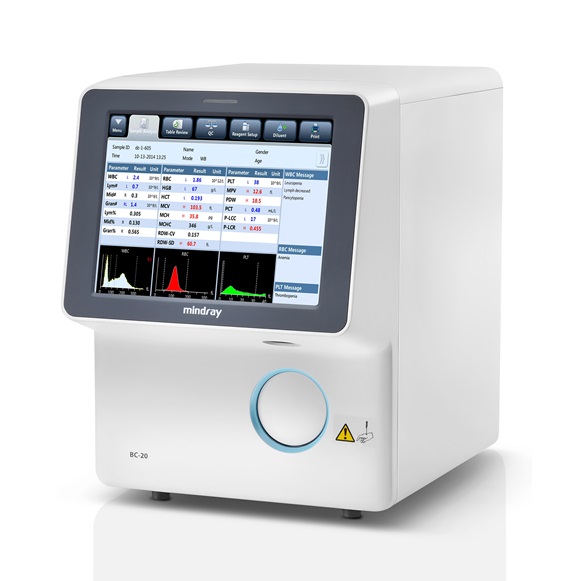 BC-20
At Mindray, we pride ourselves on our dedication and experience in developing better solutions for small labs. Our new 3-part hematology analyzer is the culmination of that effort. It provides small labs with more confidence in results and less turnaround time. Features:
CBC+3-DIFF, 20 parameters+3 Histograms
Throughput: up to 40 samples per hour
10.4 inch TFT touch screen
Only three reagents needed
Open vial sampling
Large storage capacity: up to 100,000 samples
Original QC, calibrators and reagents

---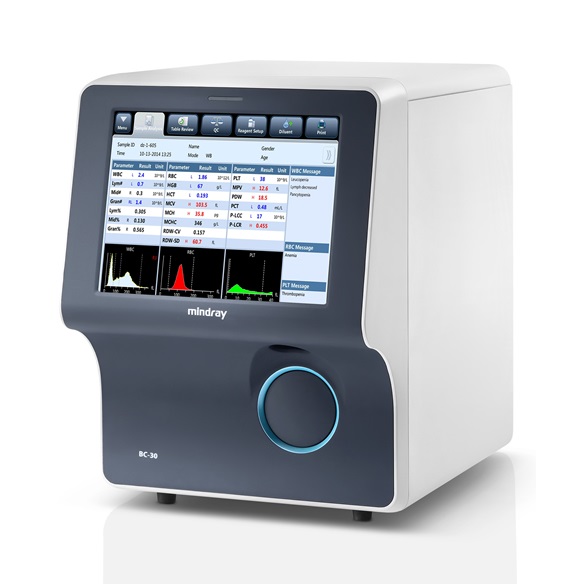 BC-30
At Mindray, we pride ourselves on our dedication and experience in developing better solutions for small labs. Our new 3-part hematology analyzer is the culmination of that effort. It provides small labs with more confidence in results and less turnaround time. Features:
CBC+3-DIFF, 21 parameters+3Histograms
Throughput: up to 60 samples per hour
10.4 inch TFT touch screen
Only three reagents needed
Open vial sampling
Large storage capacity: up to 400,000 samples
Original QC, calibrators and reagents